Welcome!
Custom imprinted promotional products for your business marketing succcess!

Imprinted mugs, pens & keytags are some familiar advertising specialty "gimme" items. But, there are so many new items we can suggest for your successful business promotions and corporate gifts. Custom-shaped USBs, power banks & chargers, stress relievers, tools, knives, hardhats,badges, buttons, flags, awards and so many more promotional items - all with your custom logo at the best prices! If you're tired of searching for items, we can make it easy. Our experience in advertising and marketing, along with our knowledge of all the available promotional products, can help you creatively decide what items will work best for advertising your business, corporate events, employee rewards program and company safety programs. From custom logo clothing (T-shirts,polos,neckties and boxers!) to custom candy, from pens to custom stuffed animals, we will show you the newest & most creative ideas and stay within your budget.

Advertising Promotions - Marketing that Works - Personalized Customer Service
You can use our online catalog of promotional products with thousands of promotional products! Our search engine lets you find products by price range, category or description.

For faster service, just call or email us. We can send you a quick presentation of items sorted by price, category, or speed of delivery.We have 24-hour service on many items.

Let us email a variety of creative ideas to you.
Personalized Customer Service. We care about our customers.
We know about imprinting on all types of items. We know how to make your logo look good! And, we're not afraid to tell you.
Product Quality? When possible, we'll send samples, so there are no surprises.
ON TIME: We will deliver your items on time for your event.
Browse our catalog, but if you get tired, confused or frustrated, just call us.
We'll email specific ideas for your promotion!

Toll-free: 1.888.889.6955
Central Time: 9am - 5pm; Mon. - Fri. EMAIL ANYTIME: accent@texas.NET
Featured Item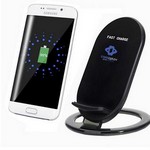 QI Fast Charge
Did somebody say FAST charge? Thats right! This QI wireless charger can charge your phone up to 80% faster! With this new technology, it is faster and speedier than any other wireless charge on the ma...
$24.22 - $25.78
Signature Showrooms